SELECTED EVENTS (2862)


Friday 26 August 2016

| | | |
| --- | --- | --- |
| FOCUS FRIDAYS WITH RJD2 | | |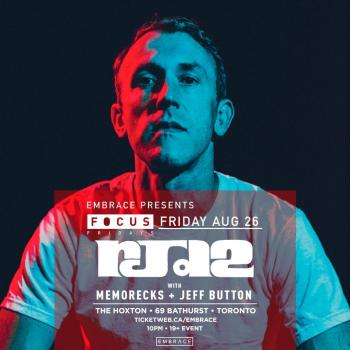 Status: Past Event!
Type: Nightlife
Venue: Hoxton
Location: Toronto, ON (CA)
Start Date: Friday 26 August 2016, 10:00 PM
End Date: Friday 26 August 2016, 06:00 AM
Agent: Resident Advisor

RJD2's music is a collage of cut-and-paste hip-hop that combines disparate elements to make for soulful, moody portraits of the world. Born Ramble John Krohn in Eugene, Oregon, on May 27, 1976, he moved to Columbus, Ohio a few years later and was raised there. He first busted out onto the hip-hop scene in 1998 -- a time when producers were emerging from the shadows to seize the spotlight -- as the DJ/producer for the Columbus-based group Megahertz. MHz had two 12" singles released on Bobbito Garcia's Fondle 'Em Records and the group was mentioned in Vibe magazine's "History of Hip Hop." [MORE]
About the venue Hoxton:
Type: Indoor
Sub-Types: Concert Hall, Nightclub, Club

Saturday 23 July 2016

| | | |
| --- | --- | --- |
| DJ DEREK LAY DEAD IN A WOOD! | | |

A pioneering DJ who was the first in Britain to play reggae died in a wood - but was undiscovered for so long his cause of death will never be known, an inquest heard. Derek Serpell-Morris, 74 - known for decades as DJ Derek - had a career spanning 40 years and appeared in a Dizzie Rascal video. He was a local legend in Bristol and is widely renowned in the music industry for playing a 60s blend of rocksteady, reggae, ska, dancehall and soul music. He also collaborated with Massive Attack among others and performed at Glastonbury Festival. Derek had been missing since July 2015 and his body was found in a wooded clearing by a dog walker on March 10, 2016. [MORE]
About the artist DJ Derek:
Art: Music
Genres: Turntablism, Roots Reggae, Reggae, Ska, Rocksteady, Dancehall, Soul, MCing, Hip Hop, R&B

Friday 29 April 2016

| | | |
| --- | --- | --- |
| SUBMIT YOUR ARTWORK TO IONEEC COMPETITION | | |

IONEEC is the very first interactive platform where anyone can share digital samples of any kind and compare them with similar content of the most popular platforms thanks to weekly a stimulation competition. Recording on popular interactive platforms such as Soundcloud and sharing digital works on IONEEC lets people have an idea of the quality of the creations and easily share them privately with their friends or publicly to blogs, sites and social networks. Artists can also get a valuable contribution of their work as the quality of the content is rewarded by a direct financial benefit! [MORE]
About the organization Ioneec:
Type: Business
Sub-Types: Website, Entertainment Promotion, Event Promotion, Social Networking Agent, Computer, Computer Software

Thursday 23 July 2015

| | | |
| --- | --- | --- |
| RUDIMENTAL @ MEZZANINE, SAN FRANCISCO | | |

Global-platinum selling four-piece RUDIMENTAL unveil new single 'Rumour Mill' featuring Will Heard and Anne-Marie on vocals, upon the announcement of their 2015 North American Tour, supporting their eagerly awaited sophomore album, "WE THE GENERATION" set for release September 18th through Major Toms/Big Beat. Kicking off September 29th at Webster Hall in New York, the tour will take the band across the states with performances in Chicago, Los Angeles, and San Francisco—see full itinerary enclosed. After selling out Terminal 5 just last September, these gigs celebrate their second album release with fans in an intimate setting sure to be packed with energy and emotion that only Rudimental can deliver. The upbeat and euphoric feeling that is their trademark permeates everything, whether it's a huge drum and bass lead track like 'Never Let You Go—which is also off the second album–or a classy house track like 'Rumour Mill'. [MORE]
About the venue Mezzanine:
Type: Indoor
Sub-Types: Club, Concert Hall, Nightclub

| | | |
| --- | --- | --- |
| RUDIMENTAL @ WEBSTER HALL NYC | | |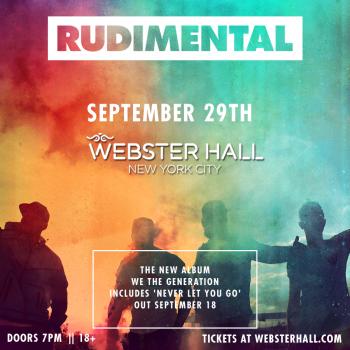 Status: Past Event!
Type: Nightlife
Venue: Webster Hall
Location: New York, NY (US)
Start Date: Tuesday 29 September 2015, 10:00 PM
End Date: Tuesday 29 September 2015, 04:00 AM
Agent: Wantickets

Rudimental are a music quartet from Hackney, London and are signed to Asylum Records and independent label Black Butter. The quartet consists of songwriters and producers Piers Agget, Kesi Dryden, Amir Amor and DJ Locksmith. The group rose to prominent in 2012 when they single "Feel the Love", featuring singer John Newman, topped the UK Singles Chart. The group have released further singles since including "Not Giving In", also featuring John Newman and Alex Clare. [MORE]
About the venue Webster Hall:
Type: Indoor
Sub-Types: Nightclub, Bar, Club, Concert Hall

Sunday 19 July 2015

| | | |
| --- | --- | --- |
| IMAGINE AT OMNIA WITH EVA SHAW | | |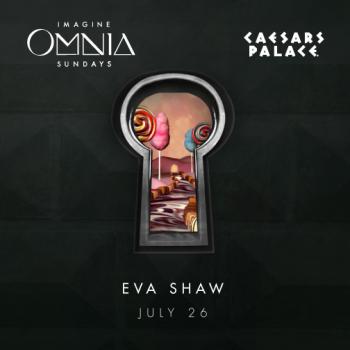 Status: Past Event!
Type: Nightlife
Venue: Omnia
Location: Las Vegas, NV (US)
Start Date: Sunday 26 July 2015, 10:00 PM
End Date: Sunday 26 July 2015, 04:00 AM
Agent: Wantickets

Dutch Canadian born Eva Shaw, formerly known as Bambi, has rapidly made a name for herself this past year in the electronic dance scene. Beginning her DJ career in New York City, Eva developed a solid music fan base very quickly. She was noticed by many immediately and began booking the top nightclubs in NYC. Eva expanded quickly all over North America, playing at premier venues including landing a residency at Hakkasan Las Vegas and music festivals such as Ultra Miami. Now releasing her original productions supported by Tiesto, Calvin Harris and many more, she is catapulting into the next level. Her first release, "Charizma" was quickly signed by Calvin Harris to his label Fly Eye with follow up records being signed one after another. Eva's heavy drops and bass driven sound continues to make dance floors go wild at every show. Stay tuned to see what she will do next! [MORE]
About the venue Omnia:
Type: Indoor

Friday 3 July 2015

| | | |
| --- | --- | --- |
| PUKKELPOP 2015 | | |

Line-up / Above & Beyond, Adam Beyer, Allah-Las, All Time Low, Architects, A-Trak, Atreyu, Bad Breeding, Bastille, Bear's Den, Beatsteaks, Black Box Revelation, Black Sun Empire, Boys Noize, Brodinski presents Brava, Cardiknox, Charles Bradley & His Extraordinaires, Charli XCX, Chunk! No, Captain Chunk!, Courtney Barnett, Craze, Critical Soundsystem - Mefjus x Kasra x Enei, Curtis Harding, Cymbals Eat Guitars, Daniel Avery b2b Erol Alkan, The Dillinger Escape Plan, Diplo, The Districts, Django Django, Dolomite Minor, Dropkick Murphys, Duke Dumont (live), Echosmith, Ellie Goulding, Elliphant, Enter Shikari, Fakear, Father John Misty, FFS (Franz Ferdinand & Sparks), Flako, Four Tet, Future Islands, George Ezra, The Get Up Kids, Ghost Culture, Gorgon City (live), Halestorm, Hannah Wants, Howling, Hudson Mohawke (live), Interpol, James Blake, Jamie xx, John Talabot, Jurassic 5, Karenn (live), Kate Tempest, Kele, Knife Party, Kodaline, Len Faki, Lido, Limp Bizkit, Linkin Park, Little Dragon, Little Simz, The Maccabees, Machinedrum, The Magician, Major Lazer, Manchester Orchestra, Mark Ronson (dj set), Mastodon, The Menzingers, Mew, Michael Kiwanuka, Milk Teeth, Mini Mansions, Mr Oizo, DJ Mustard, Netsky, Odesza, The Offspring, Ought, The Parov Stelar Band, Passenger, Pissed Jeans, Pond, Porter Robinson (live), Prhyme feat. Adrian Younge, Radkey, Rebel Sound, Roots Manuva, Rudimental, Run The Jewels, Seasick Steve, Shadow Child, Sigma Live, Slaves, Son Lux, The Sore Losers, SPOR feat. Linguistics, The Story So Far, Strand Of Oaks, The Subways, Tale Of Us, Tame Impala, Ten Walls, Thomston, Todd Terje & The Olsens, Trixie Whitley, Truckfighters, Ty Dolla $ign, Underworld, The Upbeats, Viet Cong, The War On Drugs, What So Not, Tiga [MORE]
About the organization Pukkelpop:
Type: Business
Sub-Types: Event Production, Event Promotion

Thursday 2 July 2015

| | | |
| --- | --- | --- |
| LOVEWEEK FESTIVAL 2015 | | |

In the whirlwind of music festivals now taking place on Croatia's Zrce Beach is Loveweek Festival 2015, the 7 day and night long festival that stands out amongst the many other music festivals now taking place in Novalja for being run by a dedicated group of German promoters who are adding some serious heat to this years festival with some of the most exciting electronic artists from Germany and around the world. Loveweek features a series of day and night long parties at three of the countries most exciting beach clubs, which have recently been voted amongst the best in the world. Papaya, Kalypso and Aquarius both have large outdoor dance floors with palm trees, VIP areas, swimming pools, balconies and much more scattered round their expanse. During love week these three venues will play host to some incredible DJs and live artists from the world of dance music [MORE]
About the venue Zrce Beach:
Type: Outdoor

| | | |
| --- | --- | --- |
| EXIT FESTIVAL 2015: 15 YEARS OF SHARING LOVE | | |

Line-up / Faithless Hardwell, MARTIN GARRIX, MOTORHEAD, THE PRODIGY CLEAN BANDIT, RUDIMENTAL DJ SET, TOM ODELL ADAM BEYER B2B JOSEPH CAPRIATI, Bondax, CATZ N' DOGZ, CHRIS LIEBING, Dixon, DUBIOZA KOLEKTIV, EAGLES OF DEATH METAL, FEAR FACTORY, FKJ LIVE, FLIGHT FACILITIES, FRANCESCA LOMBARDO, Gramatik, HANNAH WANTS, KILL THE BUZZ, Klangkarussell, Kölsch, MK, NAPALM DEATH, NICK MONACO, NICOLE MOUDABER, NUCLEAR ASSAULT, OCTAVE ONE , ODESZA, OLIVER HELDENS, PillowTalk, RONI SIZE REPRAZENT, SIGMA, SIMIAN MOBILE DISCO B2B ROMAN FLUGEL, SOUL CLAP, STAR SLINGER, TALE OF US, TCTS, TERROR, wAFF, WILKINSON, Zomboy [MORE]
About the venue Petrovaradin Fortress:
Sub-Types: Fortress

| | | |
| --- | --- | --- |
| "B**** BETTER HAVE MY MONEY" BY RIHANNA | | |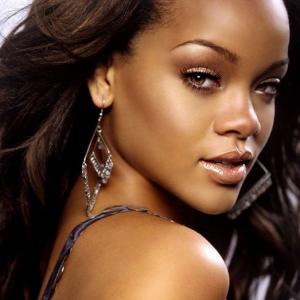 Status: Available Now!
Type: Music Video
Media: YouTube

Rihanna challenges all who would doubt her on this bold single. "Bitch Better Have My Money" finds the pop royal tearing through a gauntlet of weapons-grade trap beats with assassin-like calm. "Don't act like you forgot," she snarls. "I call the shots." [MORE]
About the artist Rihanna:
Art: Music
Genres: Dance-Pop, Pop, R&B, Contemporary R&b, Contemporary, Dance, Hip Hop, Hip Pop, Dancehall, Reggae

| | | |
| --- | --- | --- |
| WATCH "HOLDING ON" BY DISCLOSURE | | |

You've probably already seen Disclosure and Gregory Porter play new single 'Holding On' to thousands at Wild Life in Brighton, and now you can see the official video for the track from 'Caracal'. The tune might be uplifting through the vibrant, bouncy grooves, but don't expect your mood to be lifted with the visuals for it. Seemingly set in the future (holographic screens, floating cars), a character called Mariela is at the centre of a serious "peace" issue, according to a speech interlude, with things turning sour for her once she's summoned for a meeting. Getting a tattoo lands her in trouble with the authorities, before speeding off on the back of a motorbike. More to come apparently... [MORE]
About the artist Disclosure:
Art: Music
Genres: Electronic, Turntablism, EDM, Club, 2-step, Uk Garage, House, Dubstep, Future Garage, Electronic Dance

Wednesday 1 July 2015

| | | |
| --- | --- | --- |
| OFFICIAL OUTLOOK FESTIVAL LAUNCH PARTY | | |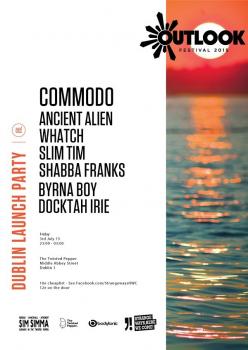 Status: Past Event!
Type: Party
Venue: Twisted Pepper
Location: Dublin (IE)
Start Date: Friday 3 July 2015, 10:00 PM
End Date: Friday 3 July 2015, 06:00 AM
Agent: Resident Advisor

OUTLOOK FESTIVAL The forefront of the bass music industry gathers every year in Pula, Croatia. The festival is nestled in an abandoned fortress which was built over 200 years ago. A spectacular venue paired with the worlds best soundsystems and the cream of the crop of the worlds best bass artists all combine to create the greatest festival experience you will ever have. COMMODO An artist with minimal online presence and who keeps himself to himself, Commodo is one of an increasingly rare few who make waves through the strength of their music alone. He builds bass-focussed beats with soul and substance that never perpetuate a formula, distancing himself from contemporaries with ingenious sampling and sound design influenced by his long-time affinity with the vibrancy of hiphop. Returning to Dublin for his second Outlook Launch party, he is a force to be reckoned with. [MORE]
About the organization Outlook:
Type: Business
Sub-Types: Event Production, Event Promotion, Entertainment Production, Entertainment Promotion

| | | |
| --- | --- | --- |
| GLASS SINES SINGLE LAUNCH | | |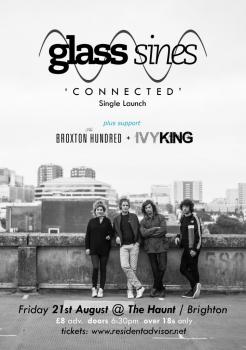 Status: Past Event!
Type: Nightlife
Venue: Haunt
Location: Brighton (UK)
Start Date: Friday 21 August 2015, 10:00 PM
End Date: Friday 21 August 2015, 06:00 AM
Agent: Resident Advisor

Brighton's Glass Sines play their debut single launch show With their driving beats, rolling synths, slick guitars and a violinists touch, they are producing tracks that can take you from the lighter, right through to the kicking with infectious energy! Line-up / Glass Sines, The Broxton Hundred, Ivy King. [MORE]
About the venue Haunt:
Type: Indoor